Please Select Your Vehicle
We will show you products that fit your vehicle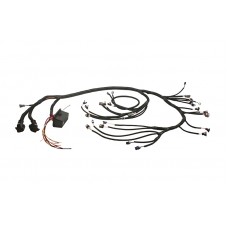 AEM Electronics Infinity Series 7 Plug n Play Harness for GM LS Engines (24X Timing Pattern)
(In Stock)
AEM Electronics Infinity Series 7 Plug n Play Harness for GM LS Engines (24X Timing Pattern)
AEM Electronics Infinity Series 7 Plug n Play Harness for GM LS Engines (24X Timing Pattern)
Brands
AEM
Product Code:
30-3532
Availability:
In Stock
INFINITY PLUG & PLAY ENGINE HARNESS FOR GM/CHEVY LS ENGINES
If you have a Chevy LS crate motor or modified LS racing engine, AEM's LS Plug & Play engine wiring harness is the perfect solution for easily and affordably installing the Infinity Programmable ECU onto it. This harness plugs into the factory sub harnesses and uses the factory sensors. IP67-rated ECU connectors are designed to mate with AEM's Infinity Series 7 ECU and connections for dual wideband O2 sensors, vehicle speed (VSS), Knock, AEMnet and CAN bus are integrated into the harness. The 58x harness includes a connection for drive-by-wire (DBW).
AVAILABLE GM/CHEVY LS PLUG & PLAY ENGINE HARNESSES
GM LS Plug & Play Engine Harness for 24x Timing Pattern (using Infinity Series 7), PN 30-3532.
GM LS Plug & Play Engine Harness for 58x Timing Pattern (using Infinity 508), PN 30-3530.
A Complete Standalone EFI System for Chevy LS Engines
The Infinity ECU combines with a GM LS Plug & Play engine harness to retain full control of the engine's functions. It is ideal for crate motor solutions that are using aftermarket dashboards as they can be configured using the on-board CAN bus wiring (will not communicate with the factory dashboard on GM LS equipped vehicles).
The Infinity ECU is able to control the variable valve camshaft and drive-by-wire on equipped LS engines, providing tuners with the ability to take full advantage of the engine's low-end power potential, and eliminate the need to convert to cable throttle. Users can create two drive-by-wire profiles for rain maps, pit lane limits and more.
AEM's LS PNP Engine Harness also eliminates the restrictive factory mass airflow sensor (MAF) and airbox, making it an ideal harness solution for forced induction applications. Other key racing features include multiple boost control strategies, programmable nitrous control, on-the-fly map switching, programmable four-wheel speed traction control, launch control, flex fuel and multi fuel capability. It utilizes airflow (VE) based tuning, has up to 64GB data logging capacity and can transfer data at up to 480Mb/second. Its enclosure is sealed and suitable for engine bay mounting.
Chevy/GM LS Plug & Play Engine Harness for Crate Motors and Racing Engines
Once you have determined which Infinity EFI ECU will best support your Chevy/GM LS M/T engine, you will need to purchase a Plug & Play engine harness (PNs 30-3532 and 30-3530). AEM's Plug & Play engine harness for LS engines includes Wideband O2 connectors for Bosch 4.2 LSU UEGO sensors (PN 30-3600 x 2 Wideband Extension Cables recommended), an AEMnet connector for communication with other AEMnet enabled devices and an auxiliary connector with a High Performance DTM-Style 12P connector for adding common aftermarket sensors including fuel pressure, air inlet temperature, MAP, oil temperature and ethanol content sensor. The expansion port also includes a sensor ground, 5v reference, 12v power from relay and high side output for activating a relay or solenoid, a low side output for boost control and analog inputs for mode switch and no-lift shift.
An integrated, weather resistant fuse and relay panel delivers superior circuit protection, and an additional High Performance DTM-Style connector is included to allow users to wire the fuel pump to the Infinity for full control. Individual coil sub harnesses are not included.
AEM Infinity Plug & Play Engine Wiring Harness Connectors:
Wideband O2 1 & 2
Alternator
AEMnet
Crank Position Sensor
Cam Position Sensor
Coils Bank 1 & 2
Engine Coolant Temp
Idle Air Control Valve (4-wire stepper motor)
Inlet Air Temperature
Injectors 1-8
Knock Sensor
MAF Sensor
MAP Sensor
Oil Pressure Switch
Reverse Lock Out
TPS
Vehicle Speed Sensor
Fuel Pump (12" flying lead)